Wow.... So a lot has been going on in my life lately since the last time I blogged. Yes, yes, I know I'm a slacker :) On July 4th my grandpa passed away from complications with Parkinson's Disease. He was such a sweet, loving man and I miss him so much already. He had a long, hard battle with this awful disease and we're all grateful that his fight is over and he's in a much better place. He chose to be cremated...which I will never understand...but his memorial services were this past tuesday on the 14th. I'm doing a lot better since the services, I think it gave me a lot of closure. Before the memorial service my mom had all of us think of some memories of Papa to share in a thing my dad read. I wanna take a little more time and try and think of some more memories of him...


*Going to air shows and the air field...he loved planes*

*Going to get ice cream whenever we got the chance*

*Going to the Talmage Store to run errands*

*Gathering worms in the early morning to take fishing*

*Going fishing in the creek by my grandparents house in Cali*

*Watching him play pool in our basement for hours....he was soooo good*

*Going fishing in the canal up on our top property and dangling our feet over the edge*

*How much he loved cinnamon rolls*

*He'd always toast his marshmallows over the coals, so they'd be perfectly golden brown...no black. To this day I do mine the same way*

* He loved Wendy's Frosty's...actually he loved ice cream in any way, shape or form :)*

* He always told me how beautiful I looked....even when I thought it was a big fat lie...lol*

* He never let anyone leave without a hug and a kiss*

*He loved my grandma soooo much...even though she was crazy and yelled a lot lol*

*He had a great sense of humor...like agreeing with me that grandma was crazy :)*

*He never complained about anything...even though Parkinson's took away almost everything he loved to do and had him trapped inside that body*

*He was a Patriot through and through. He loved this country with all his heart*

I'm sure I could sit here all night and think of many, many more memories of Papa. Those were just a few I wanted to share with yall. I love my grandpa very much. He's a very special man and I miss him dearly. I'm sure as time goes on it will get easier, but for now, his memory is still fresh and the pain is also. I'm also attaching his obituary that my mom wrote. It's really beautiful and I don't know how she had the strength to write it honestly.

I love you Papa and I'll see you again someday...I promise


Gibson, Robert E. "Bob"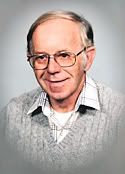 Aug. 8, 1926 ‹ July 4, 2009 MONTROSE ‹ Robert E. "Bob" Gibson, 82, of Montrose, Colo., passed away July 4, 2009 after a hard fought battle with Parkinson's Disease. Zella ,his loving wife of 58 years, and his daughters were by his side.Bob was born on Aug. 8, 1926 to George and Theda Gibson in Belle Fourche, S.D. He moved to the Redding, Calif. area as a child, and it was there he graduated high school. Shortly after graduation, he joined the Navy and served during World War II and again during the Korean War. He was a retired truck driver and an avid fisherman. He took pride in making his own fishing gear. Bob and Zella loved to travel in their trailer and they took many wonderful trips throughout the United States and Canada, until his illness prevented his traveling. They raised their family and worked in Ukiah, Calif. for 43 years before relocating to Montrose, Colo. in 1994. Bob was a very kind and patient man who dearly loved his wife, children, grandchildren and great-grandchildren. He didn't complain about anything, not even the weather. He was a lifetime member of Ukiah Elks Lodge 1728. He was a member of the Montrose United Methodist Church. His family will miss his quick wit and wonderful sense of humor.He was preceded in death by his parents; brothers, Jim and Bill; his sister, Shirley; and one granddaughter, Katie Hardin. He is survived by his wife, Zella; his daughters, Sharon (George) Tinaza and Valerie (Steve) Hardin of Montrose, Colo.; his brother, Willis Gibson of Igo, Calif.; six grandchildren, Heidi (Ty) Holman of Castle Rock, Colo., Shawn (Jamie) Hardin, Ben (Michelle) Hardin, Holly Hardin, Emily (Andrew) Repynek and Timothy (Kristin) Tinaza all of Montrose, Colo. Also surviving are eight great-grandchildren, Kelsie, Cailey and Brittney Holman, Kai, Devon and Gabriel Hardin, Tyson Tinaza; a step-granddaughter, Emani Baltazar; two aunts and numerous nieces and nephews.A memorial service will be held Tuesday, July 14, 2009, at 11 a.m., at Crippin Funeral Home Chapel. At Robert's request, cremation has already taken place. Donations may be made to Hospice and Pallative Care of Western Colorado, P.O. Box 1804, Montrose, CO 81402. Arrangements are under the direction of Crippin Funeral Home and Crematory, 802 E. Main St., Montrose, CO 81401 (970) 249-2121.